Opposition parties are demanding a caste-based census to make holes in BJP's overarching Hindutva umbrella that has united a large chunk of OBC, SC and ST voters in favour of the saffron party.
Apart from the central agencies' action on opposition leaders, "Jiski jitni sankhya bhaari uski utni hissedaari" slogan is acting as a glue to unite the opposition parties. Congress president Mallikarjun Kharge has written to Prime Minister Narendra Modi, demanding a caste-based census to ensure scientific data-backed implementation of welfare schemes. Many opposition parties have joined the chorus, and Bihar Chief Minister Nitish Kumar has in fact already announced a caste-based census for the state. 
The ruling BJP had been able to see success in breaking caste-based narratives, uniting upper caste, backwards, Dalits and tribals under the Hindutva umbrella. With 80% Hindu population, even half of their support translates into a 40% vote share for the BJP in national elections, which is difficult to beat in a multi-party contest. While ostensibly the demand is for the welfare of backwards and minorities, it appears evident that the real ploy of the Opposition is to divide the Hindu vote on the basis of caste lines to weaken the BJP.
Post-poll data by CSDS shows that:
OBC support for BJP has almost doubled since the 2004 general elections
SC support has grown to 2.5 times the 2004 figure
ST support has grown to 1.5 times the 2004 figure
BJP's vote share has increased from 22.2% in 2004 to 37.7% in 2019 (+15.5%). As per my calculations, 13.5% increase in vote share can be attributed to these caste or communities, while 8.6% increase can be attributed to only OBC support.
Parties like BSP, which enjoyed 22% Dalit support in the 2004 general elections, stands decimated today. Parties belonging to the Janata Dal parivar, which won almost 80 seats in 2004, could not even win 35 seats in 2019. These parties — such as SP, RJD, JDU, BJD, JD(S), RLD — have lost OBC support as the BJP managed to successfully create a wedge between Yadavs and Non-Yadav OBCs, especially in the Hindi heartland.
The BJP is wary of this, and hence has not fallen into the opposition's trap, which could divert attention from its accomplishments/agenda and drive the narrative of the opposition parties. It could open a Pandora's box and create social tensions between its core vote blocks of upper caste and OBCs.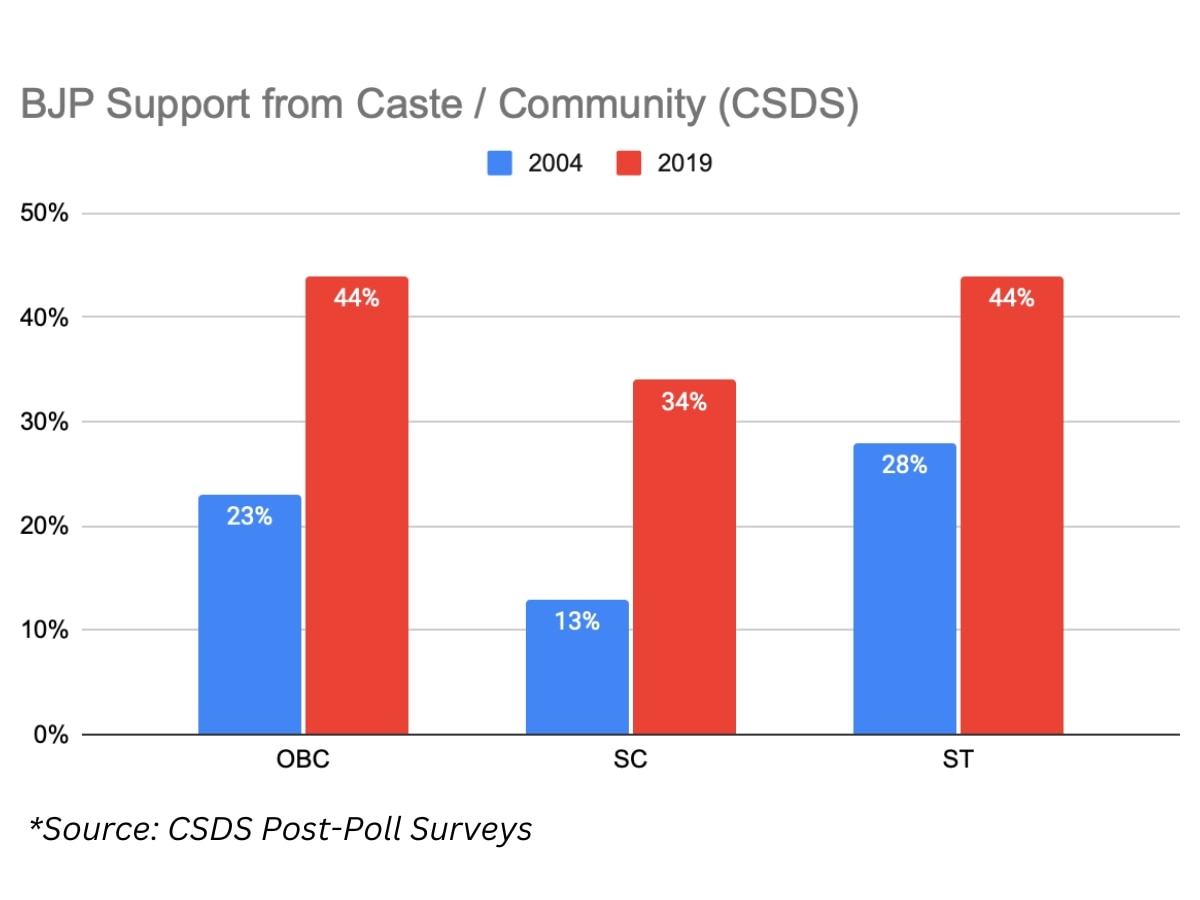 Opposition Strategy Is Unlikely to Work: 5 Reasons
The opposition strategy to wean away OBCs from the BJP may not work due to the following reasons:
1. Purely political — OBC reservation was announced without any census, so why now?
In August 1990, the then Prime Minister VP Singh of Janata Dal made a historic announcement that OBCs would get 27% reservation in jobs in central government services and public sector units on the recommendation of the Mandal Commission. No census was carried out before making such a big decision.
2. Opposition-ruled states have not carried out such census
The opposition parties are in power in 13 states and union territories today, but they have not carried out caste census themselves so far. Only Nitish Kumar has announced it in Bihar, and the results of it are not yet out and no significant update made on the progress.
3. Unsuccessful attempts by then PM Manmohan Singh in 2011, and ex-CM Siddaramaiah
Then PM Manmohan Singh conducted a caste census in 2011, but the data was never released due to inconsistencies. Then CM Siddaramaiah conducted a similar census in Karnataka, but did not put out the findings. The data on which decisions need to be made can have flaws, which could seriously jeopardise any such endeavour.
4. Puts off middle class and may further consolidate them in favour of BJP
At a time when there is a big debate nationally that reservations have not met their objectives and hence should be abolished, any attempts to reignite these demands could lead to further consolidation of the middle class towards the BJP. As much as 38% of the middle class and 44% of the upper middle class backed the BJP in 2019. The middle class today accounts for 31% of the population vs 14% in 2004-05. This may see the caste-based census and further reservations as a step that takes India back when it is approaching 100 years of Independence.
5. BJP has given highest representation to OBCs in cabinet and ticket distribution
The ruling BJP party today has the highest representation of OBCs and SCs/STs in the Union Cabinet. The Modi 2.O Cabinet has 27 OBCs, 12 SCs and 8 STs, who together constitute 61% of the ministry size.
Besines, the credibility of the opposition to fulfill their promises is still a big question mark.
In a way, it's all coming a full circle. VP Singh initiated Mandal to checkmate BJP, which was conducting a Rath Yatra led by Lal Krishna Advani demanding construction of a Ram Mandir at the then disputed site and attempting to unite the Hindus. Today, the opposition aims at Mandal 2.O to puncture Kamandal 2.O, where BJP has successfully managed to unite large sections of the Hindu population cutting across barriers of caste. The opposition also fears the completion of the Ram Mandir construction before the 2024 Lok Sabha polls could further strengthen BJP's hold.
The author is a SEBI-registered investment advisor.
[Disclaimer: The opinions, beliefs, and views expressed by the various authors and forum participants on this website are personal and do not reflect the opinions, beliefs, and views of The Insight Today]
source: abplive